Wolfmet 3D
Wolfmet 3D (SLM / Additive Manufacturing) is the revolutionary additive manufacturing process provided by M&I Materials Ltd. It uses a high powered laser to fuse successive layers of pure tungsten powder until a complex component is built. It is perfect for the manufacture of high-precision components such as collimators and radiation shields in imaging systems, such as PET, CT, SPECT, MR and X-ray. Furthermore, using Wolfmet 3D allows components to be produced cost effectively in days rather than weeks.
We believe Wolfmet 3D is transforming what is possible in collimator and shielding design and our customers have been keen to test this proposition. In addition to standard grid collimators, we have been making complex bespoke designs that deliver better results for our customers.
Recent pre-clinical studies have shown that Wolfmet 3D printed tungsten collimators produce dramatically improved image quality.
Why Choose Wolfmet 3D:
Production of highly complex component designs
Geometries not possible with traditional milling and turning
Reduced scatter due to denser septa resulting in more accurate images than with traditional lead collimators
Reduced development costs with no tooling charges
Reduced time from design to production of finished item
Non-magnetic, non-toxic, environmentally safe product
To discuss Wolfmet 3D in more detail use the contact details at the bottom of the page. For more information about the process click here.
---
New Brochure!
3D Printing Versus Traditional Manufacture
Find out which method is most suitable for your project - Download today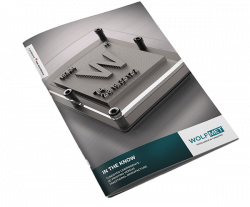 Innovation for Personalised Cancer Treatment with Wolfmet 3D Tungsten Collimator and DEPICT Project
To find out more, click download or contact us today